---
---
WHATNESS
07.09 - 05.10.19
© Peter Fraser, Deep Blue, 1997
Peter Fraser is a British artist who has been at the forefront of contemporary photographic practice since the early 1980's, emerging at a time when photography, at least in the UK, was still seen as a contested medium for fine art. Early on in his career Fraser turned his back on working in black and white – as well as more established genres of documentary, reportage and social realism – to pursue his own idiosyncratic and deeply personal practice in the controversial and, at the time, denigrated medium of colour photography. It is perhaps difficult now to understand just how radical a step that was but, for Fraser, colour was already becoming his great subject. All of Fraser's photographs are 'found'; he does not construct his pictures but rather focuses in on the objects and images he encounters around him. Through his lens often humble subjects reveal something more enigmatic and profound, opening our eyes to the strangeness and beauty of the visible world. Produced through an intuitive and lyrical method, which is matched by an intense focus and specificity, he creates highly charged images of enormous resonance.
Fraser's best photographs offer a kind of poetic sensibility married with, to use his own words, a thing's 'irrefutable fact'. Fraser approaches the world with the curiosity, openness and inquisition of a scientist or natural philosopher. It is telling that he studied science and engineering, then photography, rather than art. His work has always been concerned with both the material and the metaphysical and he uses his camera as an instrument of enquiry, trying to get to the essence of a thing by looking at it with both innocence and intelligence and opening up a sometimes fragile space in which it might appear.
︎︎︎ MARTIN CLARK
artistic director Tate St Ives, 2013
DIE PLEK
CBR Building
(Brussels)
CBR Building | Fosbury&Sons
(Chaussée de la Hulpe 18 1170 Watermael-Boitsfort (8th floor)
An extraordinary architect is behind the remarkable design: Constantin Brodzki (b. 1924), of Polish-Belgian descent. Brodzki, who still refers to his modernist masterpiece as 'the most modern building in Belgium', was ahead of his time. When, in 1970, he completed construction on the now-former headquarters of cement company CBR, his decision to use curved concrete modules was unheard of – and proved visionary. This modernist aesthetic, more sculpted than traditional Brutalism, has been imitated in dozens of other Brussels office buildings since. The building featured as the only Belgian building in the 1979 MoMA (NYC) exhibition "Transformation in Modern Architecture 1960 – 1980" selected by Marcel Breuer. The location is very central: located close to the Sonian forest and only 10 minutes away from Avenue Louise. The exhibition takes places on the eight floor which offers a spectacular panoramic view over the Sonian Forest.
Peter Fraser
(b. 1953 Cardiff, Wales) studied photography at Manchester Polytechnic in 1972 after three months of Civil Engineering studies, and graduated in 1976.In the summer of 1984, Fraser travelled to Memphis, USA to spend two months with William Eggleston which followed a duo exhibition at the Arnolfini, Bristol. He then worked on several series of photographs, leading to a first publication, Two Blue Buckets, which won the Bill Brandt Prize in London (the precursor of the CitiBank International Photography Prize) in 1988. In 2002, The Photographers' Gallery, London, staged a 20 year survey exhibition of Fraser's work, and he was shortlisted for the Citigroup International Photography Prize in 2004. In 2009, Fraser was given a commission by The Ffotogallery, Wales, to make new work for a solo exhibition at the gallery, which opened in March 2010, with a new publication, Lost For Words. In 2013, Tate St Ives held a retrospective of Fraser's career, and Tate published a major monograph on the whole of Fraser's career. This was the first retrospective at Tate by a living British photographer working in colour. In 2014, Fraser was awarded an Honorary Fellowship by the Royal Photographic Society, UK. His most recent series Mathematics opened at Real Jardin Botanico, Madrid in 2017, then opening at Camden Arts Centre, London in July 2018. Fraser's work is in the collections of V&A, London; Arts Council of England, London; St. Louis Museum of Art, USA; Foundation A Stichting, Brussels; Mast Foundation, Bologna; Yale Centre for British Art, USA; Tate, London; Siemens Collection, Munich; and private collections worldwide.
︎︎︎ Installation photos © Karin Borghouts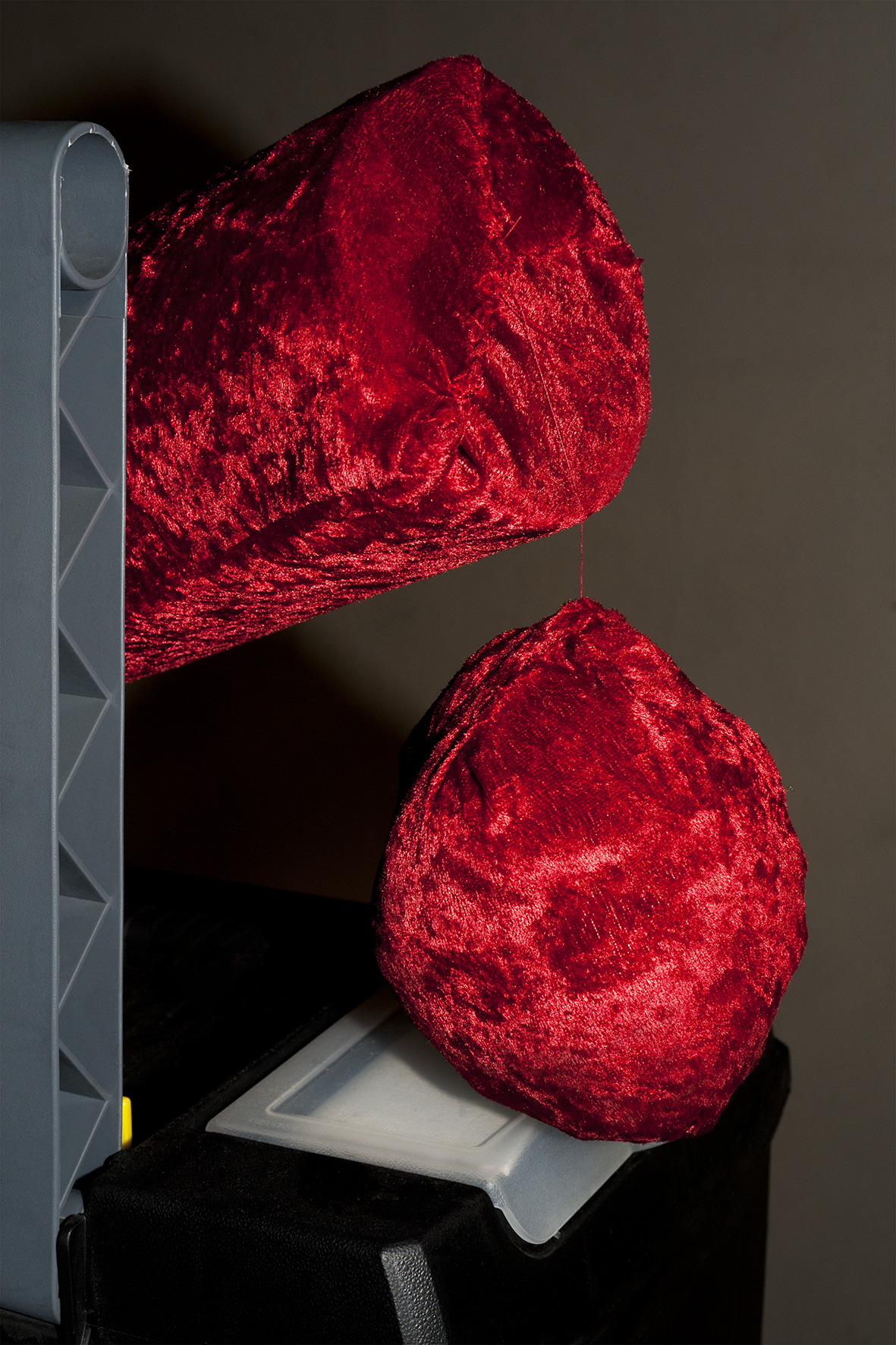 © Peter Fraser Wet Paint, 2012 / Red Things, 2012 / Pink Plastic, 1984 / Penicillin, 2012 / Paper Plane, 2006 / Material Grid, 2013 / Lost For Words, 2010 / Biro Blue Tack, 2010 / Book Wire, 2012 / Clouds, 2012 / Cocktail Sticks, 2006 / Crayons, 2012 / Elizabethan Lyrics, 2012 / Low Temperature Cryostat, 1997 / Chandelier, 2012